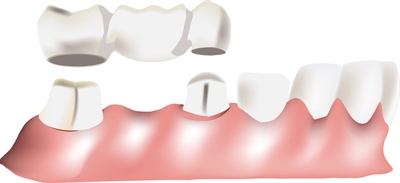 A missing tooth can be uncomfortable; it can make it difficult to chew and eat, and possibly hold you back from smiling. Fortunately, a dental bridge can fill the gap, restore function, and keep your teeth aligned properly, saving you the pain and embarrassment of being toothless.
There are different types of dental bridges, and depending on the position in your mouth the bridge is to be placed, its function, cosmetic considerations, and cost, your denturist will help you determine the right type of bridge.
When are dental bridges the right solution?
A bridge is essentially a three-part frame comprised of two crowns and a false tooth in between. There are three parts because the two healthy teeth on either side of the gap need to be ground down to anchor the bridge. The bridge then covers the prepared teeth (abutment teeth) so that the false tooth sits in the missing tooth's space above the gum.
Dental bridges are mostly used to replace a missing tooth whereby the adjacent natural teeth are strong and healthy. They are not recommended when there are two to three missing teeth, because longer spanning bridges are likely to collapse.
That said, abutment teeth do not always have to be natural teeth. If your denturist determines that a bridge is the ideal solution for your case, implants may be strategically placed to serve as anchors for the bridge.
A dental bridge can be used to:
• Restore your smile
• Restore your ability to speak and chew properly
• Help maintain the shape of your face
• Give you enough force to bite
• Help hold your teeth in place and keep them from drifting out of position
How bridges compare to other tooth replacement options
Bridges can last for decades with proper care, plus they are cheaper than dental implants, which may make them an attractive option for the cost-conscious. But cost should not be the only deciding factor. Many other elements, such as the condition of the adjacent teeth, your bone structure, and commitment to oral hygiene, among others are considered by our denturists before recommending either a removable or fixed bridge.
If you are not sure whether a dental bridge is the right solution for correcting and improving your smile, please call our Calgary-based Canadian Denture and Implant Clinic today and schedule an appointment. Our denture specialists will be happy to meet you and discuss the possible options for replacing your teeth.