For over half a century, Dental Implants have given people the experience of having their natural teeth back. If you want to eat any food you want, say goodbye to dentures, sore spots, adjustments and adhesives, this is the only way to go.
Dental Implants function much like natural teeth. With care, they will be with you for a lifetime. A recent study conducted by My Canadian Pharmacy identified that 75% of denture patients would have selected Dental Implants had they known about common denture problems.
Common denture problems include:
Difficulty Speaking: Pronouncing words with "s" or "f" sounds can be quite difficult. Approximately 88% of patients with dentures stated they had difficulty with speech; of which 25% reported very difficult problems.
Difficulty Eating: Your bite force reduces significantly with dentures. Eating certain foods with dentures can be extremely difficult; such as meat, apples, nuts, lettuce and carrots. Approximately 29% of people with dentures are only able to eat soft foods.
Lack of taste: Dentures require the roof of your mouth to remain covered by the denture. This makes it very difficult to taste your food.
Social Considerations: There are few things more embarrassing than having your dentures fall out while eating, laughing or speaking. This is a common problem with conventional dentures.
Bone resorption: The fit of your denture is directly linked to the amount of bone remaining in your mouth. In some cases, the bone recedes so much that the denture has little support and the nerve is exposed which creates a burning or tingling sensation.
Facial Appearance: Bone resorption can also cause wrinkle lines and the appearance of aging. This can cause jaw pain and make you look like you're frowning at all times.
Simply put, Dental Implants fix common denture problems for life. They let you eat whatever you like, talk normally, and laugh as much as you like.
Prevention is the best cure. As much as 25% of the bone in your mouth shrinks within the first year after teeth are extracted. The sooner you address the issue, the less issues you will encounter down the road.
Cost and fear of discomfort are the two of the main reasons that many people put off getting Dental Implants.
COST OF DENTAL IMPLANTS
If you look at the total cost of dentures over your whole lifetime, Dental Implants are the lowest-cost solution. Traditional removable dentures need frequent adjustment and replacement, which costs you money, time and inconvenience. If you include the cost of a lifetime supply of denture adhesives and cleaners, the answer is clear: in the long run, Dental Implants cost less. A recent study showed that more money is spent on denture adhesives than on dentures. It is important to note that Dental Implants will never require ANY adhesive.
Paying for Dental Implants all at once can be too much for many household budgets. To help you out, we have arranged for financing that allows you to:
Pay nothing down, and pay nothing for three months,
Keep your insurance cheque, which you can spend any way you wish,
Pay the total cost over five years in easy monthly installments, and
Pay the balance off at any time, without penalty.
See Denture Pricing and Financing
FEAR OF DISCOMFORT
With recent advances made in the dental implant industry, patients have found that getting a dental implant was less uncomfortable than getting their teeth cleaned. Many patients have returned to work the following day after receiving Dental Implants and find comfort in the fact that this will be the final dental procedure they ever have to encounter. Once the implants are placed, the Dental Implant is the only thing that needs to be replaced every 5-7 years. If you compare the short-term discomfort of receiving Dental Implants with the lifetime discomfort of traditional dentures, the choice is clear.
With traditional dentures, you will likely experience increasing oral pain and discomfort. Your diet will be restricted, and you will have to give up many of the foods that you love the most. Because chewing may be painful, you will tend to swallow your food in big pieces, creating yet more health and digestive problems. Every year there will be less bone for your dentures to hold on to, and every year your dentures will be more loose and harder to live with. Sore spots are inevitable, as are frequent, inconvenient trips to the denturist. A long life with traditional dentures is not the best solution.
We make dentures, and in many ways the old traditional dentures are better for our business. That's why most denturists will not tell you the cold, hard truth about traditional dentures. But we feel a great deal of compassion for our patients, particularly our older patients for whom dentures can become a continual every day source of pain and discomfort. When the pain grows too intense, and people would pay anything to put an end to it, it may be too late or extremely difficult. For patients who have lost significant bone, bone grafting may be the only solution. This is why we urge patients to strongly consider prevention and have introduced financing to make these treatments more affordable.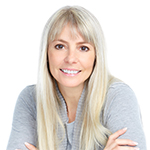 "The implant procedure took only 30 minutes and was quite painless. It's as if I had my own teeth back. My confident smile has returned and I no longer live in pain and fear."
Diane, 46
"I returned to work the following day with almost no swelling. None of my co-workers even knew that I had a dental implant placed."
Kim, 60
"I was shocked with how little pain was involved and embarrassed that I hyped it up so much in my head. The placement of the implant hurt less than a dental cleaning and I was back at work the next day."
Jim, 62
TYPES OF DENTAL IMPLANTS
Depending on your personal situation, you may be able to choose from a number of Dental Implant options. There are three main options: Fixed Dentures, snap-on removable denture and an implant retained bridge.
Fixed Dentures
A Fixed Denture is non-removable and looks & feels like natural teeth. It is supported by four or more dental implants and only your denturist or dentists can remove it in-office. A permanent Fixed Denture is entirely supported by dental implants, not the bone and tissues in your mouth. .
Snap-on Removable Denture
A snap-on removable denture is held in place by two or more dental implants. It is supported by both the dental implants and the bone & tissues in your mouth. A snap-on denture provides less support than a permanent Dental Implant, but you can add additional dental implants down the road and convert it into a Dental Implant. A snap-on removable denture is a great place to start if you have a conventional denture and are looking for a little more support.
Implant Retained Bridge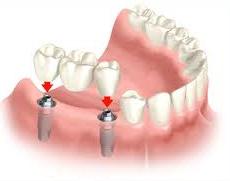 Implant retained bridges are held in place by two or more dental implants. An implant retained bridge is generally the best long term solution for replacing missing teeth. Several studies have shown that the average life expectancy of a dental bridge is 9-10 years. Partial dentures also place additional stress on your remaining teeth which can accelerate the rate at which your healthy remaining teeth are lost (see common denture problems). An implant retained bridge represents a lifetime solution, the neighbouring teeth are unaffected and the dental implants can be used to support other implant retained bridges or even a Dental Implant down the road. (Click here to learn more about partial dentures)